Corneal Cross-Linking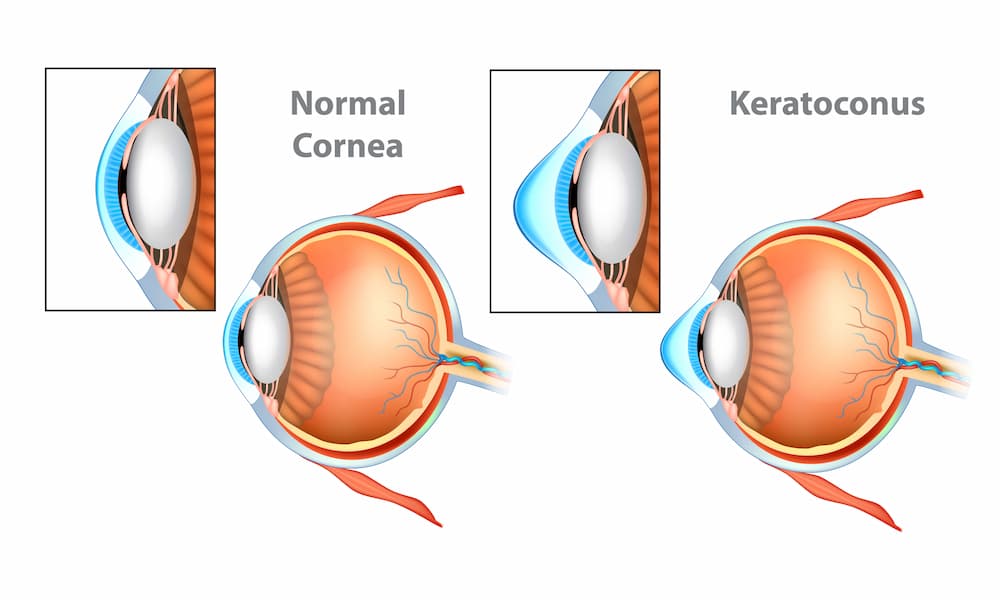 Have you recently been diagnosed with keratoconus? At Zion Eye Institute, our eye doctors specialize in a keratoconus treatment called corneal cross-linking.
If you suffer from keratoconus, your eye doctor at Zion Eye Institute may recommend corneal cross-linking to help improve your symptoms.
What Is Corneal Cross-Linking?
Keratoconus is an eye condition where the clear, dome-shaped front of your eye is misshapen. This dome, also known as the cornea, weakens and takes on a cone shape that can distort your vision. 
Corneal cross-linking is a procedure that aims to make the collagen fibers in your cornea stronger. The collagen fibers in your cornea are what provide its structure.
Making the fibers more substantial can slow or stop the progression of the condition. People with keratoconus have a cornea that bulges into a cone shape, creating blurry or distorted vision. 
In some advanced cases of keratoconus, eye doctors may recommend a corneal transplant when the cornea has become too weak from the bulging. Cross-linking may prevent you from needing a corneal transplant. 
Corneal cross-linking is an in-office procedure that aims to stop or reverse the progression of keratoconus. 
Who Should Have the Corneal Cross-Linking Procedure?
Corneal cross-linking is for patients with keratoconus. If you have keratoconus and want to know if you are a candidate for the procedure, schedule a visit with your eye doctor. 
Corneal cross-linking is one of several treatments eye doctors use to treat keratoconus. Cross-linking is an effective treatment for slowing and possibly stopping the progression of keratoconus. 
What Happens During the Cross-Linking Procedure?
The procedure takes about an hour, and you'll be awake the entire time. First, your eye doctor will give you numbing eye drops. Then, they will remove the thin outer layer of your cornea to create a treatment zone.
Next, your eye doctor will apply multiple, consecutive riboflavin drops to your eye. After this, they will shine the UV light on your eye for about half an hour. The riboflavin works in conjunction with the UV light to strengthen your cornea during this process.
While the UV light is aimed at your eye, your eye doctor may apply more riboflavin drops. After the treatment, your eye doctor will place a bandage contact lens on the eye to help protect it while it is healing.
What Happens After the Procedure?
You will need someone to drive you home after the treatment and to a follow-up visit with your eye doctor the next day. It is normal to feel some discomfort once the numbing eye drops wear off. 
Some patients report a burning or tingling sensation in their eyes. Contact your eye doctor if over-the-counter medications don't help with the discomfort.
It is essential to avoid rubbing your eyes for about a week after the procedure. If your eyes seem sensitive to light, you can wear sunglasses to help. You should also avoid wearing contact lenses for at least a month. It is important to follow all instructions given to you by your eye doctor to ensure proper healing and successful treatment. 
Will I Still Need Corrective Lenses After Having Cross-Linking?
Corneal cross-linking can preserve your vision by strengthening your cornea, but it is not a vision correction procedure. This treatment may prevent you from needing a corneal transplant. 
However, it won't end the need for corrective lenses. Those in advanced stages of keratoconus may no longer be able to get adequate vision correction through glasses or contact lenses. 
Since the procedure strengthens your cornea and aims to improve its shape, you may be able to wear contacts after corneal cross-linking.
Do you want to learn more about corneal cross-linking and determine if you would be a candidate for it? Schedule an appointment at Zion Eye Institute in St. George, UT, today!